In the morning, we took a tour of this incredible city. Recently, it became larger than Sydney because it added more land (and population) adjacent to the previous city boundaries. The downtown has so many beautiful modern high-rise buildings, while preserving the original structures from the early 1800's, most of which have been faithfully renovated and re-purposed as housing or businesses.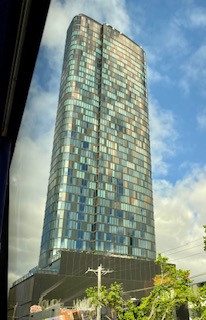 We saw the many sports venues, which are numerous, for tennis, cricket, swimming, and more. They host a Formula 1 race and are very proud of their sports tradition. There is an amusement park with the oldest wooden roller coaster that is still working. The entrance is a bit scary, though. I particularly loved seeing the modern architecture and how greenery enhanced and softened many of the buildings. Older buildings were painted and the whimsey were show-stoppers.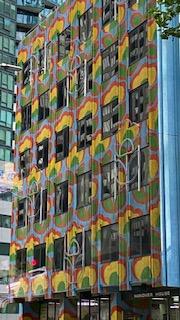 Our next stop was the Shrine of Remembrance war memorial for the war heroes who fought in past wars. Australia participated in every war, losing many troops. This memorial evokes both the pride and sadness that goes with serving in wars.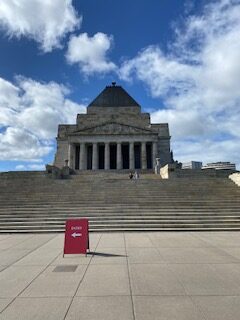 Next, on to the Fitzroy Gardens for our guided tour of the beautiful flowers, trees, miniature town, and Cook's Cottage. The volunteers who were the tour leaders had obvious pride and pleasure in showing us around. But, this wasn't our last stop of the morning. We moved on to enjoying a High Tea that promised to be an amazing taste experience. And, it was.
We had a variety of savory and sweet treats, served for each of us, plus an absolutely delicious welcoming cocktail (gin, Aperol, and… I can't remember). After enjoying the food, we had pots of tea, a large variety, prepared to perfection.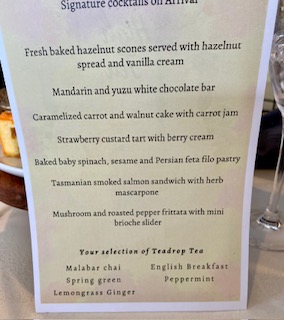 We left a few minutes early to enjoy a Melbourne Walking Foodie Tour that we booked on our own. How we were going to eat more was a mystery but we met our local guide, Monique, along with six others who signed up. There was a Dutch couple who live in Brisbane now, a young woman from Houston, another young woman from Cincinnati who is finishing her Ph.D. in chemistry at a university in Brisbane, and a couple from Germany. We all got along famously.
Our guide knew the back stories of the owners of each shop, which made the tour more interesting. First stop was a macaroon shop (macaron here) with treats in the most beautiful colors, with fillings that were mouth-watering. We could pick one to enjoy, which wasn't easy. They are also quite sweet, so one was more than enough. Then on to taste a traditional bahn mi sandwich, filled with amazing things and delicious bread.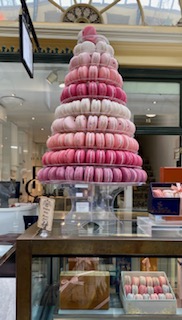 Our last stop was a pub, filled with young people (like us, haha) and enjoyed one of the local beers. It was really good and we got to conct with our group again until we parted ways. The best part of the tour was that almost all of the places we visited were on tiny side streets. You wouldn't know where to go for these amazing offerings unless you were knowledgeable, which Monique was. We returned to the hotel feeling full.
Tomorrow, we have our first excursion to the Barrier Reef.