Today is a travel day. We left the hotel early for the Rotorua Airport. We flew to Queenstown on the South Island via Wellington. There are no direct flights, unfortunately. The first flight was on a 90 passenger turbo prop and, after the three hour layover, we were off on a larger, normal-sized plane to Queenstown. The first leg was about an hour, the second leg a little longer. You fly over mountains, rivers, and more mountains. There were few towns that we could see. Wellington is the capital of NZ, although it isn't anywhere near the population of Auckland (2.5 million people).
We arrived in the late afternoon, with just enough time to go into our hotel room and then go to dinner at the top of the mountain overlooking Queenstown. The Stratosfare Restaurant is only reachable via a gondola, with views that were amazing . The buffet was quite good, with an excellent selection meats, seafood, vegan, vegetables desserts, and lots more. We learned our lesson about buffets and were very diligent about not piling food on our plates.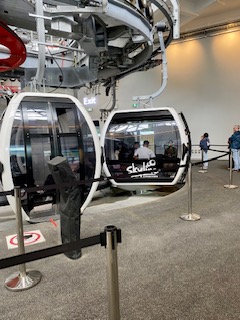 Queenstown is a hub for sports, art, music but especially as the gateway to Milford Sound and Fiordland. The fiords are on the west side of the South Island with gorgeous waterways. It was a 4.5 hour bus ride, through sheep country, gorges, waterfalls, and snow-caped mountains. We stopped many times for photo opportunities and a rest stop in a little town called Te Anau, where they had some beautiful Merino wool clothing. It was tempting to buy something but I will wait until we are in Sydney toward the end of the month to make that decision, depending on whether I have any room in my suitcase!
We were on the lookout for local wildlife but especially the Kia Parrot, a bird about the size of a small turkey. They aren't afraid of people so you can practically go right up to them without them being frightened. The views were very reminiscent of Colorado or any other mountainous area. As the temperatures were turning cooler, the weather was closing in, which isn't uncommon in the mountains.
Finally, we arrived at Milford Sound. This fiord opens up to the Tasman Sea and occasionally, you can see a dolphin, or a whale. We were hoping to see a penguin or a seal, and they were very accommodating. To get the best photo, you had to go outside of the boat (catamaran, actually) which wasn't much fun because it was sleeting and darn chilly. We brought layers but no heavy coats, since this is the coldest place we will be. We stayed inside, enjoying our lunch and the views, except for a quick visit to see a penguin and a seal when they decided to give us show.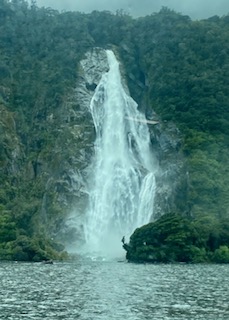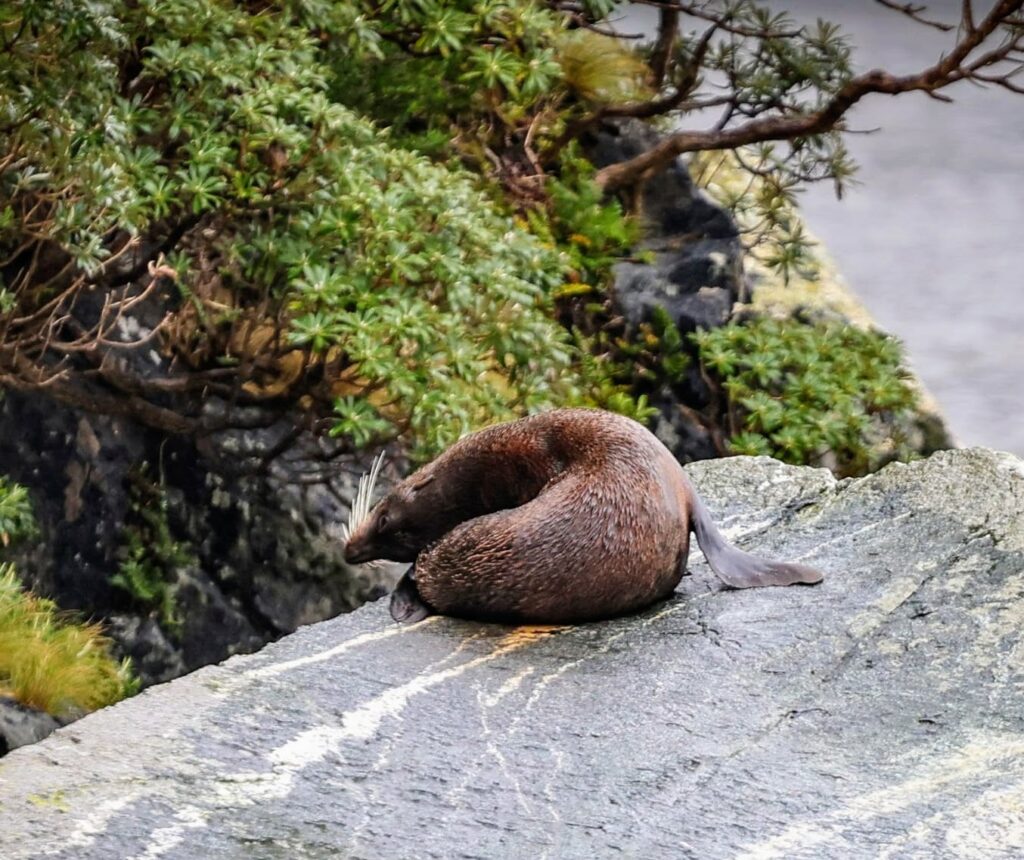 The two-hour boat trip got close to huge waterfalls, some as tall as Niagara Falls. They were worth seeing. We took the bus trip back to Queenstown, arriving around 8:00 PM. We considered going into town for dinner but decided to have a bite in our hotel. It was a good decision and a nice end to the day. Tomorrow we have most of the day free until the evening, when we will be enjoying a boat trip to Walter Peak for a BBQ dinner.